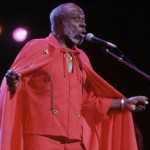 December 15, 2001 Rufus Thomas Jr., R&B, funk, and soul singer, died.
Thomas was born March 27, 1917 in Cayce, Mississippi, but grew up in Memphis, Tennessee. By the age of ten he was performing in amateur productions. For 22 years until 1963, Thomas worked in a textile plant while pursuing a career as a professional entertainer.
He recorded his first song in 1943, but the prime of his career came in the 1960s and early 1970s when he recorded "Walking the Dog" (1963), which went to number five on the R&B chart, "Do the Push and Pull" (1970), his only number one R&B hit, and "The Breakdown" (1971), which climbed to number two on the R&B chart. In 2001, Thomas was inducted into the Blues Hall of Fame. A street in Memphis is named in his honor.