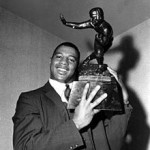 December 14, 1939 Ernest Davis, the first African American to win the Heisman Trophy, was born in New Salem, Pennsylvania, but raised in Elmira, New York.
Davis attended Syracuse University where he was a running back from 1959 to 1961, winning first team All-American honors in 1960 and 1961 and earning the nickname "the Elmira Express." On November 28, 1961, Davis was awarded the Heisman Trophy as college football's top player of the year.
He earned his Bachelor of Arts degree in economics in 1962. Davis was selected number one in the 1962 NFL Draft, the first African American to be drafted number one, by the Washington Redskins and traded to the Cleveland Browns. Before playing a game of professional football, Davis died from leukemia on May 18, 1963. More than 10,000 people filed past his coffin in a single day and President John F. Kennedy sent a condolence telegram.
Despite never playing a game for them, the Cleveland Browns retired his jersey number 45. Davis was inducted into the College Football Hall of Fame in 1979 and a film biography, "The Express" based on the book "Ernie Davis: The Elmira Express" (1999), was released in 2008.
A commemorative statue stands in front of Ernie Davis Middle School in Elmira.