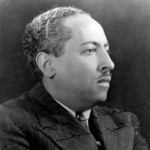 June 4, 1973 Arna Wendell Bontemps, poet and noted member of the Harlem Renaissance, died.
Bontemps was born October 13, 1902 in Alexandria, Louisiana. He earned his bachelor's degree from Pacific Union College in 1923 and moved to New York City to teach. In 1943, after graduating from the University of Chicago with a Masters Degree in Library Science, he was appointed Librarian at Fisk University. He held that position for 22 years and during that time developed important collections and archives of African American literature and culture.
Bontemps authored many children's books. He is best known for the 1931 novel "God Sends Sunday." His 1948 work "The Story of the Negro" won the Jane Addams Book Award and was a Newbery Honor Book. His biography, "Renaissance Man from Louisiana: A Biography of Arna Wendell Bontemps," was published in 1992.