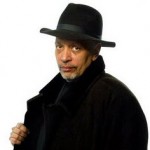 January 12, 1952 Walter Ellis Mosley, novelist, was born in Los Angeles, California.
Mosley earned his Bachelor of Arts degree in political science from Johnson State College in 1977 and moved to New York City in 1981. While working at Mobil Oil, he took a writing course at City College.
Mosley started writing at the age of 34 and has written every day since, writing more than 33 books. His first published novel, "Devil in a Blue Dress" (1990), was made into the 1995 movie of the same title. That was followed by novels such as "White Butterfly" (1992), "Fearless Jones" (2001), "Blonde Faith" (2007), and "When the Thrill is Gone" (2011).
Mosley's works have consistently addressed social and racial issues and have been translated into 21 languages. Mosley received the 2005 "Risktaker Award" from the Sundance Institute for his creative and activist efforts and in 2005 he was the first recipient of the Carl Brandon Society Parallax Award for his young adult novel "47" (2005).