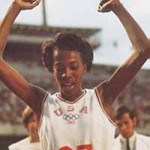 January 11, 1948 Madeline Manning, hall of fame track and field athlete, author, and speaker, was born in Cleveland, Ohio.
Manning ran track at Tennessee State University where she won ten national titles, set a number of American records, and graduated in 1972. She participated in the 1968, 1972, and 1976 Summer Olympic Games.
At the 1968 Mexico City Olympic Games, she won a Gold medal in the 800-meter race and at the 1972 Munich Olympic Games she won a Silver medal as a member of the 4 by 400-meter relay team. In 1984, Manning was inducted into the USA Track & Field Hall of Fame. Manning is founder and president of the United States Council for Sports Chaplaincy and has served as U.S. team chaplain at the last six Olympic Games.