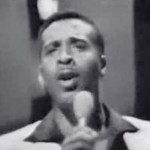 October 17, 2008 Levi Stubbs, lead vocalist of the Four Tops, died.
Stubbs was born Levi Stubbles on June 6, 1936 in Detroit, Michigan. In 1954, he and three friends formed a singing group called the Four Aims. Two years later they changed their name to the Four Tops and in 1963 signed with Motown Records.
By the end of the decade they had over a dozen hits, including "It's the Same Old Song" (1965), "I Can't Help Myself (Sugar Pie, Honey Bunch)" (1965), "Reach Out I'll Be There" (1966), "Standing In the Shadow of Love" (1966), and "Bernadette" (1967). Since the late 1980s, the group has focused on touring and live performances.
In 1995, Stubbs was diagnosed with cancer and later suffered a stroke. In 2000, Stubbs was replaced in the Four Tops by Theo Peoples. The Four Tops have sold over 50 million records worldwide and in 1990 they were inducted into the Rock and Roll Hall of Fame and in 1999 they were inducted into the Vocal Group Hall of Fame.