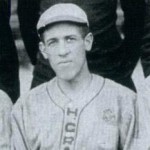 March 28, 1946 Cumberland Willis "Cum" Posey, basketball and baseball hall of fame Negro League player, manager and team owner, died.
Posey was born June 20, 1890 in Homestead, Pennsylvania. In his early years, basketball dominated Posey's life.  From the early 1900s through the mid-1920s, Posey was considered the best African American basketball player of his time by his peers and the media. "The mystic wand of Posey ruled basketball with as much eclat as 'Rasputin' dominated the Queen of all the Russias", observed the Harlem Interstate Tattler in 1929.
Posey led Homestead High to the 1908 city championship, played with Penn State  and then formed the Monticello Athletic Association team that won the Colored Basketball World's Championship in 1912. He later played varsity basketball for Duquesne University, under the name "Charles Cumbert", and led the Dukes in scoring.
While playing for the Loendi Big Five, he won four straight Colored Basketball World Championship titles. He retired from basketball in the late 1920s to turn to baseball.
He was also considered one of the top black baseball players of his time. In 1910, he organized a group of steelworkers into the Homestead Grays, one of the most powerful franchises in Negro League history. In 1916, Posey became manager of the team and in the early 1920s became owner. Between 1937 and 1945, his teams won nine consecutive pennants. From 1931 to 1945, Posey wrote a column for the Pittsburgh Courier and from 1931 to his death was a member of the Homestead Board of Education. Posey was posthumously inducted into the Baseball Hall of Fame in 2006.