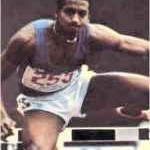 March 24, 1959 Renaldo "Skeets" Nehemiah, hall of fame track and field athlete, was born in Newark, New Jersey.
Nehemiah attended the University of Maryland where he won three NCAA titles.
He was the first athlete to run the 110 meter hurdles in under 13 seconds and held the world record from 1981 to 1989. In 1982, Nehemiah signed with the San Francisco 49ers of the National Football League as a wide receiver. He played three seasons with the 49ers before returning to track in 1986. Nehemiah was inducted into the USA Track & Field Hall of Fame in 1997 and currently serves as director of track and field for a sports management and marketing agency.