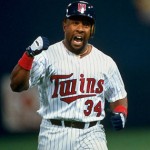 March 14, 1960 Kirby Puckett, hall of fame baseball player, was born in Chicago, Illinois.
Puckett earned All-American honors for baseball in high school. He was drafted by the Minnesota Twins in 1982 and made his major league debut in 1984.
Over his 12-season professional career, Puckett was a ten-time All-Star, six-time Gold Glove Award winner, and in 1986 won the Roberto Clemente Award which is given to the player that best exemplifies the game of baseball, sportsmanship, community involvement and the individual's contribution to his team.
Puckett was forced to retire in 1995 due to the loss of vision in one eye. The Minnesota Twins retired Puckett's number 34 uniform in 1997 and he was inducted into the Baseball Hall of Fame in 2001. Puckett died March 6, 2006. Puckett published his autobiography, "I Love This Game," in 1993. A bronze statue of Puckett was unveiled outside of the Twins' stadium in 2010.