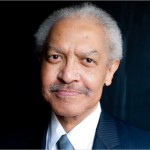 April 1, 2011 William Manning Marable, educator, author, and activist, died.
Marable was born May 13, 1950 in Dayton, Ohio. He earned his Bachelor of Arts degree from Earlham College in 1971, his Master of Arts degree from the University of Wisconsin in 1972, and his Ph. D. from the University of Maryland in 1976.
Starting in 1974, he taught at several universities, including Tuskegee University, Cornell University, Ohio State University, and the University of Colorado. In 1989, Marable joined Columbia University where he eventually became the M. Moran Weston and Black Alumni Council Professor of African American Studies.
In 1993, Marable founded the Institute for Research in African American Studies at Columbia. He also was a founding director of the Africana and Hispanic Studies program at Colgate University. Marable authored several books, including "How Capitalism Underdeveloped Black America" (1983), "Beyond Black and White" (1995), and "Malcolm X: A Life of Reinvention" (2011).