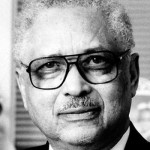 October 16, 1922 Leon Howard Sullivan, minister, civil rights leader and activist, was born in Charleston, West Virginia.
Sullivan became a Baptist minister at 18 and moved to New York where he graduated from the Union Theological Seminary in 1945 and earned a Master's in Religion from Columbia University in 1947.
In 1950 Sullivan moved to Philadelphia and became pastor of Zion Baptist Church where he served for 38 years, increasing its membership from 600 to 6,000 and becoming known as "the Lion of Zion." In 1958 Sullivan led a boycott of local businesses with the slogan "don't buy where you don't work" that resulted in thousands of jobs for African Americans over a period of four years. In 1964 he founded Opportunities Industrialization Centers of America which offered job training, instruction in life skills and assistance in job placement. The organization grew into 60 affiliated programs in 30 states and served over 2 million disadvantaged and under-skilled people.
In 1968 Sullivan led the effort to build Progress Plaza, the first Black owned and developed shopping center. In 1971 Sullivan joined the Board of Directors of General Motors Corporation, becoming the first African American to serve on the board of a major corporation. In 1977 he developed a code of conduct for companies operating in South Africa during apartheid called the Sullivan Principles. In 1999 the Global Sullivan Principles were issued by the United Nations calling for multinational companies to take an active role in the advancement of human rights and social justice.
Sullivan authored several books, including "America is theirs: And Other Poems" (1948), "Alternatives to Despair" (1972), and "Moving Mountains: The Principles and Purposes of Leon Sullivan" (1998). Sullivan was the recipient of many awards including the Spingarn Medal from the NAACP in 1971, the Presidential Medal of Freedom, the highest civilian award that the American government can give, by President George H. W. Bush in 1992, and the Eleanor Roosevelt Award for Human Rights by President William Clinton in 1999. Sullivan died April 24, 2001.