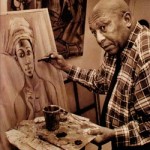 March 20, 1993 Gerald Sekoto, the father of South African art, died.
Sekoto was born December 9, 1913 near Middelburg, Eastern Transvaal. After graduating from the Diocesan Teachers Training College, Sekoto taught school from 1934 to 1938. In 1938, he moved to Johannesburg to pursue a career as an artist. He held his first solo exhibition in 1939 and in 1940 the Johannesburg Art Gallery purchased one of his paintings, the first picture painted by a black artist to enter a museum collection.
In 1947, Sekoto left South Africa to live in Paris, France. While in Paris, he composed music and performed to pay his living and art school expenses. His works include "Three Women" (1942), "Song of the Pick" (1947), "Woman and Child" (1955), and "Homage to Steve Biko" (1978). Sekoto had exhibitions in Paris, Stockholm, Venice, Washington, Senegal, and in South Africa.
Several biographies have been written about Sekoto, including "Sekoto: The Art of Gerald Sekoto" (1995), "A Black Man Called Sekoto" (1996), and "I Am an African: The Life and Times of Gerald Sekoto" (2004).