March 10, 1956 Larry Myricks, hall of fame track and field athlete, was born in Clinton, Mississippi.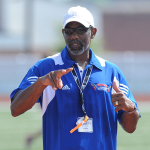 Myricks competed for Mississippi College and was the 1976 and 1979 NCAA long jump champion.
He also earned his Bachelor of Science degree in management and marketing in 1979. Myricks qualified for the 1976 Montreal Olympic Games, but broke his foot and was unable to compete. He also qualified for the 1980 Moscow Olympic Games, but did not compete due to the United States boycott.
He did compete in the 1984 Los Angeles and the 1988 Seoul Olympic Games and won the Bronze medal at the latter. Myricks was inducted into the USA Track and Field Hall of Fame in 2001 and is currently President & CEO of Mega Sports International, a health, wellness, and fitness company.