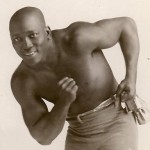 June 10, 1946 John Arthur "Jack" Johnson, the first black World Heavyweight Champion, died in a car crash.
Johnson was born March 31, 1878 in Galveston, Texas. By 1902, he had won at least 50 fights against white and black opponents and in 1903 he won the World Colored Heavyweight Championship. Johnson finally won the World Heavyweight Championship in 1908 with a technical knockout in the 14th round over Tommy Burns.
In 1910, former undefeated heavyweight champion James Jeffries came out of retirement "for the purpose of proving that a white man is better than a Negro." The "Fight of the Century" ended with Johnson knocking Jeffries out in the 15th round. Johnson's win triggered riots in more than 50 cities. Johnson lost his title in 1915 but continued fighting professionally until 1938. He retired with a record of 73 wins, 13 losses, and 9 draws. In 1922, Johnson received patent number 1,413,121 for an improved wrench for tightening loosened fastening devices.
Johnson was posthumously inducted into the Boxing Hall of Fame in 1954. Johnson's life is the basis for the play and subsequent 1970 movie "The Great White Hope" and in 2005 a documentary, "Unforgivable Blackness: The Rise and Fall of Jack Johnson," was produced.