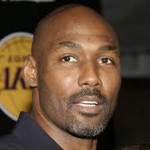 July 24, 1963 Karl Anthony Malone, hall of fame basketball player, was born in Summerfield, Louisiana.
Malone played college basketball at Louisiana Tech University where he earned the nickname "The Mailman" because he always delivered.
Malone was selected by the Utah Jazz in the 1985 NBA Draft. Over his 19 season career, Malone was NBA Most Valuable Player in 1997 and 1999 and a 13-time All-Star. Malone was also a member of the Gold medal winning basketball teams at the 1992 Barcelona and 1996 Atlanta Olympic Games.
Malone retired in 2004 and in 2006 the Jazz retired his jersey number 32 and a bronze statue of him was unveiled outside the Energy Solutions Arena in Salt Lake City, Utah. In 1996, Malone was voted one of the NBA's 50 Greatest Players and in 2010 he was inducted into the Naismith Memorial Basketball Hall of Fame. Malone is director of basketball promotions at Louisiana Tech.