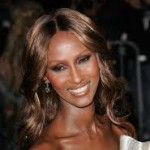 July 25, 1955 Iman Mohamed Abdulmajid, super model, actress and entrepreneur, was born in Mogadishu, Somalia.
Iman attended high school in Egypt and later lived in Kenya where she studied political science at Nairobi University. She is fluent in five languages, Somali, Arabic, Italian, French, and English.
Iman moved to the United States in 1975 and her first modeling assignment was for Vogue Magazine in 1976. Over her 14 year modeling career, Iman modeled the fashions of many prominent designers, including Halston, Gianni Versace, Calvin Klein, and Yves Saint-Laurent. An occasional actress, Iman has appeared in several movies, including "Back in the World" (1985), "No Way Out" (1987), and "Love at First Sight" (1988).
In 1994, Iman started her own cosmetics business focused on difficult to find shades for ethnic women. That is now a $25 million a year business. In 2007, she started a clothing design line called Global Chic which is one of the best selling items on the Home Shopping Network. She is also actively involved in a number of charitable endeavors, including the Keep a Child Alive program and the Children's Defense Fund. In 2010, Iman received the Fashion Icon Lifetime Achievement Award from the Council of Fashion Designers of America, as "an individual whose signature style has had a profound influence on fashion."