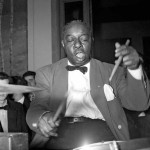 December 24, 1898 Warren "Baby" Dodds, jazz drummer, was born in New Orleans, Louisiana.
Dodds gained a reputation as a top young drummer in New Orleans and worked on Mississippi River steamship bands with Louis Armstrong. He moved to California in 1921 to work with Joe "King" Oliver and then followed him to Chicago, Illinois.
Dodd is regarded as one of the best jazz drummers of the pre-big band era and he revolutionized the drum kit by inventing the floor bass or "kick drum." Additionally, Dodd is probably the first jazz drummer to record unaccompanied. Dodds died February 14, 1959. A biography, "The Baby Dodds Story," was published in 1959.