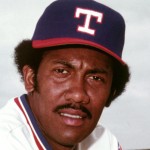 December 13, 1942 Ferguson Arthur Jenkins, hall of fame baseball player, was born in Chatham, Ontario, Canada.
Jenkins was signed by the Philadelphia Phillies in 1962 and made his major league debut in 1965. Over his 18 season professional career, he was a three-time All-Star selection and in 1971 won the Cy Young Award as the best pitcher in the National League.
In 1974, Jenkins became the first baseball player to win the Lou Marsh Trophy as Canada's top athlete and he was named the Canadian Press Male Athlete of the Year four times. Jenkins retired after the 1983 season with a record of 284 wins and 226 losses and was inducted into the Baseball Hall of Fame in 1991. In 2011, Canada issued a commemorative postage stamp in Jenkins' honor. His autobiography, "Ferguson Jenkins: The Quiet Winner," was published in 1975.