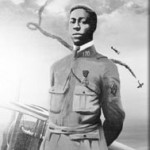 October 12, 1961 Eugene Jacques Bullard, the only Black pilot in World War I, died.
Bullard was born October 9, 1894 in Columbus, Georgia. While on a trip to Paris in 1914, World War I started and Bullard decided to join the French Foreign Legion. In 1916 he was wounded and awarded the Croix de Guerre. In 1917 he joined the French Air Force and flew twenty missions and is thought to have shot down two enemy aircraft. When the United States entered the war, Bullard attempted to join the U. S. Army Air Service. Although he passed the medical examination, he was not accepted because Blacks were barred from flying. After the war, Bullard remained in Paris and established a successful nightclub.
At the outbreak of World War II in 1939, Bullard, who spoke German, agreed to spy on German agents frequenting his club. After the German invasion of France, Bullard fled Paris and in 1940 returned to the United States. When seeking work in the U. S., he found that the fame he enjoyed in France had not followed him home. He worked in a variety of jobs, including salesman and security guard.
In 1949, after attending a concert by Paul Robeson to benefit the Civil Rights Congress, Bullard was beaten by an angry mob which included members of the state and local law enforcement (Peekskill Riots). The beating was captured on film and can be seen in the 1970s documentary "The Tallest Tree in Our Forest". Also photos of the beating were published in "The Whole World in His Hands: a Pictorial Biography of Paul Robeson". Despite recorded evidence of the beating, no one was ever prosecuted.
In 1954 the French government invited Bullard to Paris to rekindle the everlasting flame of the Tomb of the Unknown Soldier and in 1959 he was made a knight of the Legion d'honneur. Despite this recognition, Bullard died in New York City in relative poverty. He was buried with military honors in the French War Veterans' section of Flushing Cemetery in Queens, New York. Bullard's story was told in the books "The Black Swallow of Death" (1972) and "Eugene Bullard: Black Expatriate in Jazz Age Paris" (2000). In 1994 he was posthumously commissioned as a Second Lieutenant in the United States Air Force.