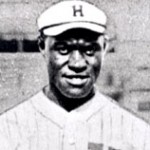 March 19, 1964 John Henry "Pop" Lloyd, hall of fame Negro League baseball player and manager, died.
Lloyd was born April 25, 1884 in Palatka, Florida and began his professional baseball career in 1905.
Over his career, Lloyd batted .343 and was generally considered the greatest shortstop in Negro League history. Lloyd was often referred to as the "Black Wagner," a reference to hall of famer Honus Wagner. In response, Wagner said "it's an honor to be compared to him." Lloyd retired in 1932 and was posthumously inducted into the Baseball Hall of Fame in 1977.