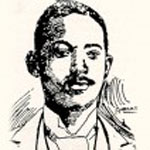 February 2, 1897 Alfred L. Cralle received patent # 576,395 for a lever operated ice cream scoop, a design still widely used today.
Cralle was born September 4, 1866 in Kenbridge, Virginia and as a young man became interested in mechanics. Part of his education was completed at Wayland Seminary in DC.
Later, he moved to Pennsylvania where he become a porter for Markell Brothers drug store and the St. Charles Hotel.
While working as a porter Cralle noticed that ice cream was difficult to dispense because it would stick to spoons and ladles, usually requiring two hands and two implements to serve. To overcome this he invented the "Ice Cream Mold and Disher" which kept the ice cream from sticking and only required one hand to operate. On February 2, 1897, he became the first African-American in Pittsburgh to receive a patent for his invention of the ice cream scoop.
Cralle married and had three children (two girls and a son).
Cralle went on to become a successful businessman before he was killed in an automobile accident in 1920.