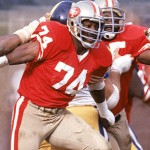 February 24, 1952 Frederick Rudolph "Fred" Dean, hall of fame football player, was born in Arcadia, Louisiana.
Dean played college football at Louisiana Tech University and was an All-Southland Conference defensive tackle.
He was selected by the San Diego Chargers in the 1975 NFL Draft and over his eleven season professional career was a four-time Pro Bowl selection, two-time Super Bowl champion, and the 1981 NFC Player of the Year. Dean retired in 1985 and was inducted into the Pro Football Hall of Fame in 2008 and the College Football Hall of Fame in 2009. Dean is a minister in Reston, Louisiana.