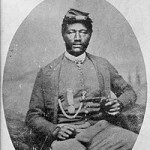 February 18, 1874 James H. Harris was awarded the Medal of Honor, America's highest military decoration, for his actions during the Civil War.
Harris was born in 1828 in Saint Mary's County, Maryland. He worked as a farmer before enlisting in the Union Army in 1864 as a private in Company B of the 38th Regiment U.S. Colored Troops.
He was quickly promoted to corporal and then to sergeant. At the Battle of Chaffin's Farm, on September 29, 1864, Harris' regiment was among a division of black troops assigned to attack the center of the Confederate defenses at New Market Heights. The attack was met with intense Confederate fire, killing, capturing or wounding over 50 percent of the black troops, and stalling the effort.
When a renewed effort began, Harris and two other men ran at the head of the assault and were the first to breach the Confederate defenses and engage them in hand to hand combat. That attack was successful and the Confederate forces were routed. Harris died January 28, 1898 and was buried at Arlington National Cemetery.