February 17, 1891 Albert C. Richardson of South Frankfort, Michigan was awarded patent number 446,470 for inventing a new and improved churn.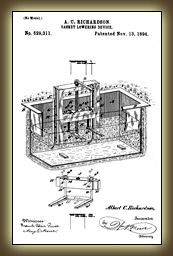 His invention provided a simple and inexpensive churn capable of readily converting the lacteal fluid into butter and delivering the same upon a suitable plate for convenient removal.
Richardson created several other devices that were completely unrelated to each other. He received patent number 255,022 on March 14, 1882 for a hame fastner, patent number 529,311 for a casket lowering device on November 13, 1894, patent number 620,362 on February 28, 1899 for an insect destroyer, and patent number 638,811 on December 12, 1899 for an improvement in the design of the bottle.
Not much else is known of Richardson's life.