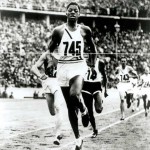 October 30, 2007 John Youie Woodruff, Olympic champion, died.
Woodruff was born July 5, 1915 in Connellsville, Pennsylvania. As a 21 year old college freshman, Woodruff won the 800 meter Gold Medal at the 1936 Berlin Summer Olympic Games.
Woodruff went on to earn a bachelor's degree in sociology from the University of Pittsburgh in 1939 and a Masters degree in the same field from New York University in 1947. From 1941 to 1945, he served in the United States military, rising to the rank of Captain. He reentered military service during the Korean War, and was honorably discharged in 1957 with the rank of Lieutenant Colonel.
Annually, a 5 kilometer race is held in Connellsville to honor Woodruff.