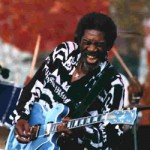 August 12, 1997 Luther Allison, blues guitarist, died.
Allison was born August 17, 1939 in Widener, Arkansas but raised in Chicago, Illinois. Allison taught himself to play the guitar. During the 1950s and early 1960s, he worked the club circuit. He released his debut album, "Love Me Mama", in 1968. In 1972, Allison was signed by Motown records, the first and one of the few blues artists to sign with Motown.
By the mid-1970s he began touring Europe and in 1977 moved to France. In 1994, Allison returned to the United States and released the album "Soul Fixin' Man" which won four W. C. Handy Awards. He also released the album "Reckless" just before his death. Allison was posthumously inducted into the Blues Hall of Fame in 1998.