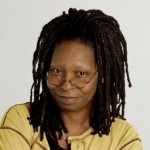 November 13, 1955 Caryn Elaine Johnson (Whoopi Goldberg), actress, comedienne and activist, was born in New York City.
In 1983, Goldberg created "The Spook Show", a one woman show which ran on Broadway for 156 sold out performances and won her the 1985 Drama Desk Award for Outstanding One Person Show. In 1985, she made her film debut in the "Color Purple" which resulted in an Academy Award nomination for Best Actress.
In 1990, she played a psychic in the film "Ghost" and became the first Black female to win the Academy Award for Best Supporting Actress in nearly 50 years. Goldberg has appeared in over 150 films including "Jumpin' Jack Flash" (1986), "Clara's Heart" (1988), "Sister Act" (1992), and "Made in America" (1993).
In 1994, Goldberg became the first African American female to host the Academy Awards which she again hosted in 1996, 1999 and 2002. Goldberg is one of only a few performers to have won an Oscar, a Grammy, a Tony, and an Emmy. In 1999, she received the Gay and Lesbian Alliance Against Defamation Vanguard Award for her work in supporting the gay and lesbian community and in 2001 she received the Mark Twain Prize for American Humor.
In September, 2007, Goldberg became the co-host of the television show "The View" which continues to today. Several biographies have been written about Goldberg, including "Whoopi Goldberg: From Street to Stardom" (1993) and "Whoopi Goldberg: Comedian and Movie Star" (1999).