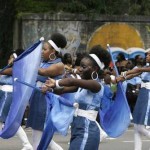 August 11, 1929 The first Bud Billiken Parade and Picnic was held in Chicago, Illinois "as a celebration of the unity in diversity for the children of Chicago."
The parade and picnic is held annually on the second Saturday in August and has grown into the oldest and largest African American parade in the United States. It is held on the South Side of Chicago and concludes in Washington Park.
The parade sponsors raise money for college scholarships for local youth. Celebrities that have participated in the parade include Joe Louis, Muhammad Ali, Oprah Winfrey, and Michael Jordan. In 2006 and 2007, then United States Senator Barack Obama served as the Grand Marshal.